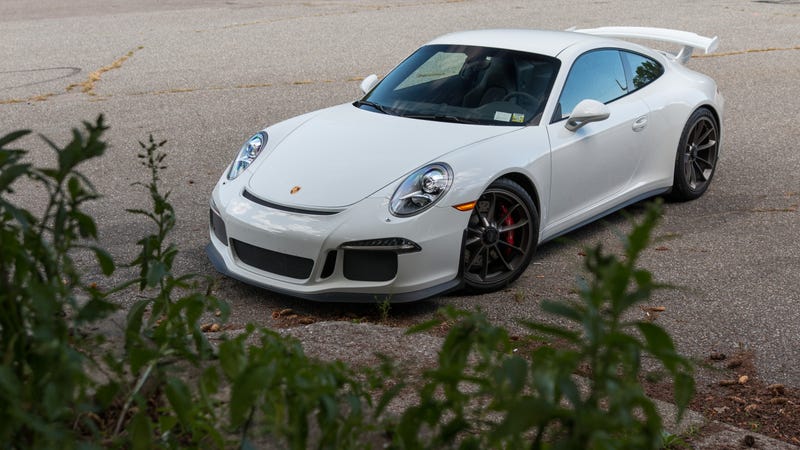 The Porsche GT3 has long been regarded as a driver's car. While the results are always staggering, the recipe for GT3 pie is very simple – take a normal 911, ratchet up the cc's and revs, strip out the weight while exaggerating the width and wheelbase, give it cup-car stiff suspension, strap on a huge wing and use unobtanium on engine internals. While recognizing that's an enormously simplified set of activities, they do accurately explain what makes the GT3 special. And special it is.
Porsche, it seems more than any other quality sports car builder, has a very binary following. They're either adored or thought of as an engineering folly. Perhaps it's the lack of flamboyance or maybe it's the designers' rigid adherence to that half century-old shape. Whatever the reason, most anyone who steps into a GT3, even Porsche detractors, are astonished at what they've just driven. Unlike any other road car, the GT3 feels very close to a cup car. Driving one on the street gives a sense of escapism, as if the car is supposed to be gridding for a sprint race, but you've nicked it while the pit crew wasn't looking.
You might have noticed that these reviews are becoming more thorough. To help you get a true sense of the cars we supply, I've been trying to give a very fair and honest review. With that, it needs to be said that I've gone into this review quite apprehensively. You see, I adore Porsches. To me, the GT3 has been the finest road car ever made. It's the start and finish to any car quest. A few years ago, I put more than 7,000 miles on the last generation GT3 as the missus and I traipsed around America on the hunt for adventure during our honeymoon. I love the subtly in the steering of a GT3. I appreciate that while they may pack 100 less horsepower than the competition, oftentimes they still tear through a lap quicker. I love the six-speed manual gearbox. I love the way the simplicity creates savagery. I love that if you make a mistake in a GT3, a computer doesn't' cover it up. You know full well your gaffe and learn from it...perhaps bleed a little from it too.
So what to make of this newest German widow-maker? It would be inaccurate to say ours just arrived. It actually arrived in February, but was grounded by Porsche, as the first GT3 deliveries in Europe were so angry, they were spontaneously combusting. To remedy the situation, Porsche pulled the engine out of each, had them shipped back to Germany and new engines were hand-assembled, shipped back and slipped back in to each GT3. But now that it's here, this is what it is:
This is a 2014 Porsche GT3. It sports a water-cooled, 3.8L, six-cylinder boxer engine that produces 475bhp and 324 torques. Four overhead camshafts and four vales per cylinder make it special. Power is sent to the rear wheels and can propel the car to 60 mph in 3.3 seconds. Most everything, including the engine, is made of aluminum, so this is a seriously light car, weighing in at just 3,153 pounds. Sounds very GT3-ish. But then there's the other 2014 bits. New for this year is the lack of a manual gearbox. Now, the GT3 can only be purchased with its Porsche Doppelkupplung gearbox. That's a funny name, which is why it's just called PDK. The PDK is a sequential, twin clutch gearbox. It's in the new 911 991 models, as well as the Cayman R and really most any other Porsche you would like it in, except the one in the GT3 is a little better. They've shaved time off the already-quick shifts, shortened the gear throw and made things heavier, snappier.
Add to this the new rear steering element and this is a very different GT3 it would seem. Now, turns less than 60mph will have the rear wheels turn opposite a smidge, more than 60mph makes them turn in the same direction. Don't fret. It's not 90's Prelude technology. The rear wheel steering isn't really helping you turn, it's just using trickery to lengthen or shorten the wheelbase and overall driving geometry. It's the science of milliseconds. The GT3 even has adaptive engine mounts that vary between stiff and soft, giving the driver either a hardcore feel or smooth ride, depending on the terrain and driving style.
Right, so what's it like? From a visual standpoint, it's brilliant. The exterior sports an overall refined look. It's not a shouty drama queen like other supercars are. It doesn't beg for attention. However, when you take in the details, such as the massive wing on the back, the sharp front splitter that juts out from under the cavernous air intakes like a highway vacuum and the mammoth rear wheel arches, it's quite apparent that this car is military grade. And the wheels… the wheels are beautiful. Turbine-style 20 inch wheels shod with Michelin Cup tires ooze style and, on closer inspection, you'll note they don't have five lug nuts, rather just a center-locking hub, as you'd find on a racecar. Sweet. The curves all feel purposeful and the lines are super-exotic 911 – stretched and strung out.
Inside is more of the same. Simplicity and taste throughout. Lightweight materials are everywhere. The seats are race-ready and light, but very comfortable and supportive for either turn 1 or a long tour. I especially like the steering wheel. It's not round, but rather sculpted. Your hands fall onto flat areas at 3 and 9 0'clock, the alcantera supplies a firm grip and its devoid of any controls for radio, navigation or anything else that doesn't get you through a corner quicker. It's just a steering wheel and it's wonderful. Behind it are the machined aluminum PDK gear selectors.
The Drive.
With a quarter turn of the storied left-side ignition switch the GT3 instantly snaps to life. Getting out of the CCC garage is a bit of an affair. With about three inches of ground clearance, one needs to creep down the skirt to the street on an angle and do it slowly. Halfway down the skirt shows just how taught the GT3 suspension is. While the right front wheel clings to the sidewalk, the left wheel dangles a few inches above the ground. There's not much play in this car. After helping put 2,500 break-in miles that were limited to 4,500 rpm, I took the GT3 out for a two-hour blast through the twists of Westchester, now that the revs are unlimited and we can see what she does.
Straight off the bat, the GT3 is an angry machine. It's taught, highly sprung, planted, loud. I like this. Navigating the West Side Highway traffic was a breeze. The active engine mounts (I'm assuming) made the ride smooth. Typically, a GT3 is a jarring ride, but not this one. The ride was comfortable, controlled and I have to say, the PDK made shifting about as easy as a video game. Right now in high volume Manhattan, I don't miss the manual. Three miles out and I'm already explaining to a police officer that yes it's loud, but that doesn't mean I'm going very fast. Yet.
A couple dozen miles north and the roads become less straight and less crowded. We're in the gateway to sports car country. Having been held to 4,500 RPMs for so long made me really interested to see what this engine was like when you approach the, wait for it, 9,000RPM redline. As I opened the taps on a straight stretch in second gear, the revs just kept climbing, dragging astonishing speed along with it. As the revs grow, so does the anger. The engine emits a note I've never really heard before. It isn't sweet singing like a Ferrari, or haunted like a Lamborghini. It's much more mechanical. It screams at you. It sounds like it's giving you everything it has and it's served up from a jackhammer. As the revs approach 8,000rpm, a quick stab at the right shifter and the car instantly drops down the range with a hollow crack boom and promptly starts climbing again. The shift is so fast and so firm, it's the closest thing to a race machine I've ever experienced on the street. I can do this all day, but that four-second experiment has placed me well into triple digit speeds. This car is a supernatural kind of fast. 475 horses feel like 675 in a GT3.
Into the turns, the Porsche has a balance that's glorious. Before I drove it, I read a few other reviews and it's been mentioned that one of the improvements in the new model is a wider front track, as the last generation GT3 would push through corners and lose traction when you needed it most. This new car corrects that. And while I wasn't at racetrack speeds, I did notice that the front end went wherever you wanted it, even in technical, twisting corners. Pushing the car on these roads also made me a bit thankful it didn't have the traditional six-speed manual. While that would be very familiar, with this car, it would have been one more thing to manage. When information is flying at you this fast, one less thing to manage is good. Rather, I used the PDK as a braking aid, downshifting into corners to slow the car down while keeping it's weight balanced on the front and back wheels. The gearbox is as they say, heavy, fast and purposeful. It's LeMans. But I'm not racing leMans, I'm trying to feed my passion for driving. I'd love to see this car equipped with the rev-matching manual gearbox GM has put in the C7 Stingray. Let me make the shifts, just sort out the rev count for me and I'll be happy.
Through every corner, the GT3 impressed. When it was time to give it the beans, the speed and ferocity that the car propelled itself down the road was unholy. It's a ballistic missile. I found it especially joyful to drive when entering a corner a little fast, but very controlled and at neutral throttle. Applying the gas in heavy doses while exiting the corner and uncorking the wheel produced acres of speed and just a touch of wheel spin while heading off into a straight. Every corner was predictable. There were no worries about what the car was going to do – the two choices being tight lines and sublime exits, or too much speed and a fiery oversteer.
But here's the rub. It's fast. Very fast. Dare I say too fast. With other cars punching at this level, like the 458 Italia or the McLaren, you can never explore their limits - my driving limits come into play before the car's do and public roads are no place for heroes – but you get a sense of what they can do. You get a glimpse into their performance. They give you a sample and make you say "wow". But I never felt this in the GT3. It's stupendous for sure and it impresses every time you're in it, but for me, it's at such a more purposeful level, I never got to dip into that moment where the car shows you exactly why it's so biblically special. That's what tracks are for, right? We race spec Miatas at CCC and drive things like Ariel atoms on track. Going into turn on New Jersey Motorsports Park's Thunderbolt, we're probably topping out at 113mph in a Miata. In the GT3, I would be doing that closer to 175mph. I'd be doing so in a road car with no cage, navigation and a three-point seatbelt. Bad things would happen.
I then saw this video featuring Andreas Preuninger, king of the GT3 project at Porsche. He likes to drive his early in the morning, before the roads become crowded. Makes sense. Then you see the roads. He lives in the German countryside with close proximity to the Autobahn. That video makes everything come into focus. Mr. Preuninger made this Porsche for him and his roads. This also means that when you drive a GT3, each outing should be an exploration to find the roads that let you explore the cars true capabilities and find the zing. I didn't find them in Tarrytown or Pleasantville, but they exist, and I think, White Rim, Route 550 or Denali Highway might be some of the US-appropriate stretches.
Text: Michael Prichinello
Photos: Michael Roselli