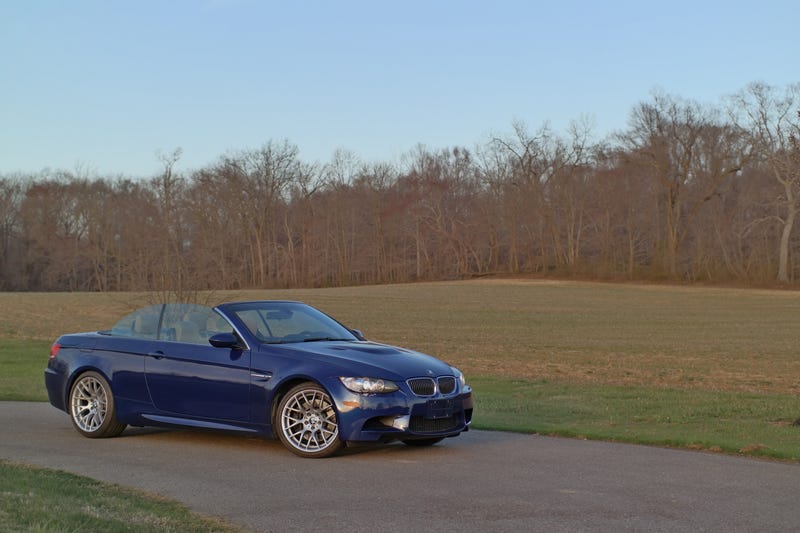 You might be saying to yourself, "Isn't that the convertible version? I don't like convertibles..." Of course you don't, you like nice rigid coupes, for rigidity. Nobody wants to own a convertible, but they can be damn fun on a nice day, which is exactly why CCC just added one to the fleet.
I took Amtrak from NYC down to DC (above was shot from the train, somewhere just outside DC) and was pleasantly surprised by how comfortable the seats were, and how well the wi-fi worked. Less pleasant was the tray-table-terrorist of a 3-year old across the aisle from me, luckily I had headphones. Upon arriving at Union Station an Amtrak employee was helping people off the train on the platform and saying things like, "Welcome to Washington DC, Union Station! Sorry it doesn't look nicer!" Everyone around me chuckled as we ascended into the main hall, it seemed nice enough to me.
The (now previous) owner of the M3 picked me up at the station; after exchanging documents and swapping plates, I hit the road north, back to NYC. With a half tank of gas, no roof, a bangin' sound system, and 420hp under foot, I was feeling good to say the least. I do understand why convertibles are not preferred in the sports-car world, but I refuse to not appreciate them. No top means you can hear the BARK of a downshift, and the wail of that high-revving V8 so, so much better. Plus, the wind was in my hair.
I stopped for gas about an hour out of DC as the sun was setting, and of course couldn't help but find a nice empty lot to shoot a few photos. Day turned to night with a wildly pink sky fading behind me, traffic thinned and the M3 came into it's own. The temperature dropped with the sun, but I was a cozy cucumber in the cockpit utilizing a smidge of seat-heat and my trusty CCC jacket.
Consumption for the 225 mile trip was decent, resting evenly on 18.5 mpg upon my arrival back in NYC. The 7th speed really does wonders in the mileage department, but that's not to say a double-downshift to 5th didn't happen once or twice in order to pass a Sunday driver.
A bit after dark I heard something in the distance, ahead of me. It sounded just like the M3 I was driving, but, loud. Very loud. I caught up to this E92 and gave him a thumbs up, so he put on a bit of a show:
Follow CCC on Twitter, Instagram, and Facebook