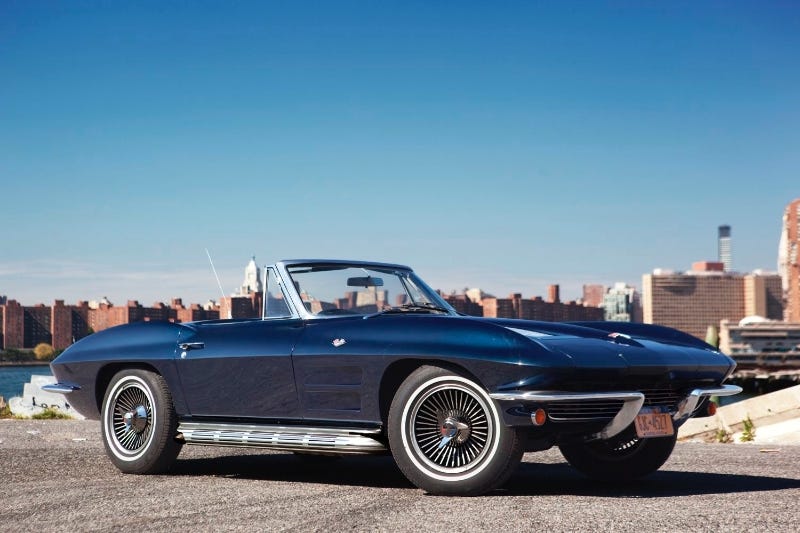 If Classic Car Club had a genealogy chart, branches and blossoms would be found throughout England but somewhere near the trunk, there would be a solid root system that started in Harpswell, Maine.
Back in the late 50's, Maine was predominately the home of fisherman, agriculturalists, and other hearty men and women that knew how to shake of the elements. The scene might not have looked too different from 100 years prior, aside form the rooster tails of dust being kicked up by a '63 Sting Ray being driven way too fast by a one Dick Moseley. Dick was a greaser. He and his clique sported Carroll Shelby quaffs, a taste for tuning, and a hardcore bromance with Corvettes.
Dick didn't have just one Corvette, he had a few. But the '63 was the one he'd drive away in if the tides in Casco Bay were to ever produce a rogue wave. For Dick, his greaser persona had to evolve like many others—his beloved '63 was swapped for more sensible equipment and cash needed to care for two new Moseleys, namely little Zac and young Jeremy.
It's new-school drivability wrapped in old-school nostalgia.
But the Maine geaser lineage did not die in vein. Really, it didn't die at all. Dick's love affair with the Corevette didn't disappear, it just became folklore amongst the Moseley brood. Zac picked up Dick's motorsport mantle and ran with it in the form of Classic Car Club, birthed in London and refined in Manhattan.
Funny thing is, in almost ten years of American motoring, we've never had a 60′s Corvette or any early 'Vette for that matter. The reason is when your family roots start with a few cherry C2's, you can't just get any Corvette. You need to get the correct Corvette.
Nearly 4,000 days after our start and some million miles on the odometer later, that C2, the correct C2, is finally in the Classic Car Club fleet. But correct, it always wasn't.
While this Vette was spared the decades of questionable "upgrades" by numerous owners that most Corvettes are subject to, it still suffered from half-century old technology. Nostalgia has a funny way of improving notions over the decades. C2 Stingrays could be described as "agricultural", at best. Old Vettes have very heavy idles, clutches, and steering. If you're driving an original, you can skip your trip to the gym on that day. It's as much of a driving session as it is trying to wrestle one.
Zac, being the Moseley he is, wasn't satisfied with the original, carbureted small block that the C2 was born with. In true greaser fashion, he had the motor yanked and shoe horned a late model LS1 Corvette lump under the hood with a matching five-speed manual gear box. But while the modern LS1 is great, it lacks that old school panache you so want from a vintage Corvette. To remedy this, Zac made sure to outfit the new power plant with a lopey cam to give it a multi-profile power band and that lub, lub, lub, lub, lub associated with old Americana, along with a new set of Hooker Headers to finish off the old school/new school conversion. Power steering and power brakes were also introduced to the drop top, as well as an aftermarket radiator and a bunch of running bits underneath.
Cosmetically, she's a stunner. The Corvette sits on original knock off wheels and sports the original side-pipe exhausts that run the length of the wheelbase down both sides of the car. The beautiful Daytona blue exterior is glamorously offset with a new white interior and matching blue carpets, creating a wonderful combination of sophistication in appointments and a hell of a lot of business under the hood.
After taking it for its maiden drive, it's quite apparent Zac has harkened the greaser aesthetic of dear old Dad perfectly. This is one of the greatest cars I've ever driven during a decade of Classic Car Clubdome.
Hovering around 390bhp, the LS1 gives the Corvette the perfect amount of power—and by CCC standards, "perfect" means too much, but still very drivable. The twin exhausts do more than rattle and hum, they shout and rumble in a throaty, deep, and dangerous way. To take in the relaxed, yet edgy lines of the C2 and the war cry of the exhausts is an exercise in true automotive art. It's stunning.
A lot of mechanical work went into making the drive very livable and lovable. The clutch rewards the driver with a firm, linear resistance that's a pleasure to operate, no matter the traffic patterns ahead. The power steering makes turning in and out of lanes a one-handed affair. Give the Vette some gas and the LS1 thanks you in spades. The revs climb faster than expected and a bright liveliness comes into play. The lightweight fiberglass body of the Corvette makes it very easy for the engine to break the rear wheels loose, or get you up to sixty in what feels like 4.5 seconds.
While this is a car that's quite capable of anger and fury, it seems to have grown a bit wise over fifty years. Rather, it seems to want you to take it on a road trip. The suspension is tight, but not Nürburgring tight. The speeds are lofty, but the emphasis is more on control. She runs smooth, and cool. It's possible the little Vette could win a street race, but it would much rather cruise to a Sonic just to remember what a hop stop was all about.
So, what did Dick think? It was love at second sight.
-Mike P