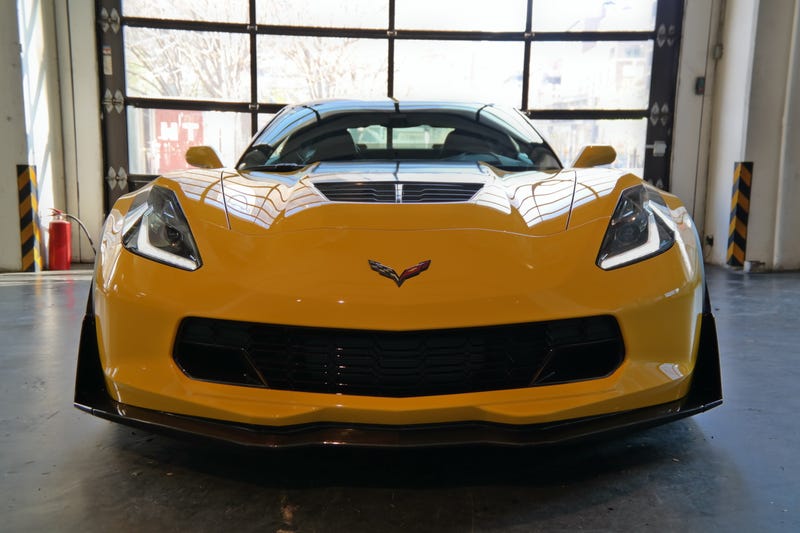 The new Corvette Stingray is a great car, which I did not expect to like as much as I do. So when GM showed up with this yellow 'n black flared 'n vented beast of a thing, I experience mild to strong excitement.
Once off the truck, and safely inside the CCC garage I began to poke around and check out some of the details added. The end result of the myriad exterior tweaks is an almost overwhelmingly aggressive design, but in the best way possible.
GM was nice enough to bring the Z06 along with two Camaros (Z/28 and SS 1LE) for a special Classic Car Club happy hour event, where members and GM VIPs got a chance to look around and even sit in the cars without having to wait in line or fight through a crowd. Everywhere on the body sills have been added with nice bends in them, as well as vanes to further direct airflow and keep this wedgy American icon from flying away.
And of course, a good bit of naked carbon fiber, I really like the way this lower door sill curves towards the rear, it adds a lot to the stance of the Z06.
I was glad to see the supercharged LT4 powerplant not completely hidden by plastic covers. I'm just trying to imagine the torque and it hurts my neck.
Check out more hi-res photos of the Z06 in the gallery below:
Follow CCC on Twitter, Instagram, and Youtube